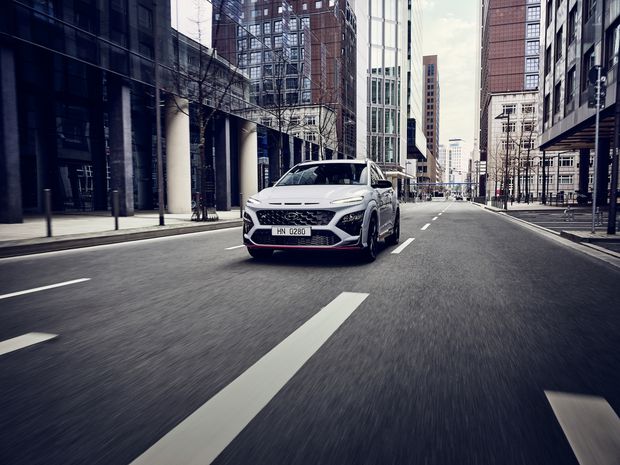 If you are interested in the future of affordable performance, you should be interested in what Hyundai is currently doing. Thirty years ago, the company was building economical but slightly dreary fare. Twenty years ago, it offered good bang-for-your-buck but not much excitement. Today, Hyundai unveiled the Kona N, a pint-sized performance crossover that might shake up the market in much the same way the original Volkswagen GTI did.
That market has already voted with its wallets. People are buying crossovers in droves, and sedans and conventional small hatchbacks are disappearing. If you want a dash of performance in your crossover, BMW, Mercedes, Porsche or even Lamborghini will sell you one, with pricing to match.
Never mind the price, the Kona N promises to be more fun than all that high-thrust Germanic horsepower (remember, the Lamborghini Urus is based on an Audi). In fact, both Hyundai and its N division seem to have siphoned off some of Germany's best talent, with head of R&D Albert Biermann and global chief marketing engineer Thomas Schemera both formerly with BMW right from the late 1980s through Munich's golden era.
If you're a BMW fan, your ears just perked up, because that period was an age when nearly everything with a blue-and-white roundel on the nose was great to drive. However, BMW is a brand with a long motorsport heritage. Hyundai might have hired a few executives, but you can't just show up and start building great cars.
Consider the Veloster N. During Road & Track's annual performance car shootout in 2019, this oddball little shoe-shaped hatchback outgunned the likes of the Porsche 911, Lotus Evora and Nissan GT-R in terms of charm, quickness and delight. Obviously, the purists were miffed, but the verdict was solid. It's not really that different than the question posed in the mid-1980s: Sure, a Ferrari Testarossa is the car you want to be seen in, but couldn't you have 90 per cent of the fun in a humble GTI?
The Kona N takes the Veloster N's recipe and applies it to a small crossover that sits between the budget-minded Venue and the slightly more practical Tucson. The ordinary Kona previously impressed with its fun-to-drive nature and had the same practicality as any compact hatch.
Seeing what Hyundai has learned over the past five years is like watching a 1980s sports movie montage in fast-forward. The company won the World Rally Championships twice, while also competing successfully in touring-car racing. They currently even field an all-electric Veloster ETCR in electric touring car racing. This is a company at the cutting edge of motorsport.
That podium-winning success translates to the street with the Veloster N, and should for the Kona N as well. Front-wheel-drive only, the N is immediately recognizable by its wide, body-coloured arches, 19-inch wheels and extra grilles. A new colour, Sonic Blue, is intended to be a little more subtle than the periwinkle used on other N products.
Under the hood is a turbocharged 2.0-litre four-cylinder engine paired with an eight-speed dual-clutch transmission. Power output is 276 hp, with an overboost function that briefly unlocks an additional 10 hp. 0-100 km/h is a claimed 5.5 seconds.
As with the Veloster, straight-line performance is not the point. Hyundai refers to the handling characteristics of their N vehicles as "corner rascal," and despite the marketing spin, the term is apt. As with the Veloster N, there's an electronic limited slip differential to help put the power down. If the higher centre of gravity of a crossover can be tamed versus the lower-slung Veloster, the Kona N promises to be a little beast, cocking its rear wheel through a corner like a terrier marking a fire hydrant.
Inside, the Kona's four-door practicality hasn't been marred by silly seats, just a bit of extra bolstering for added lateral grip in the corners. There's an uncluttered heads-up display, customizable steering-wheel buttons to quickly flick between driving modes, and plenty of driver-safety aids. Probably the craziest feature, found on European models, can recognize road signs indicating a winding road ahead and suggest a sportier drive mode.
There are other sporting small CUVs on the market but not really in this size or price point. The Mercedes-Benz GLA35 is $52,900 before options or delivery charges; a Veloster N is under $40,000, including both. Canadian pricing is not yet available but shouldn't be much of a premium.
It's Kona N the Barbarian, but with four doors and a useful trunk, and also reasonable fuel economy. And, if you've read this far and are warming up your fingers to advocate for battery-electric vehicles, Hyundai has good news there too.
In fact, Hyundai's N division has one of the most exciting vehicles on the planet. It's called the RM20e, and it's an 820 hp rear-wheel-drive Veloster racing machine, crafted from carbon-fibre. A rolling laboratory, the RM20e has performance to match Porsche's Taycan EV, and Hyundai let slip they even have a fuel-cell-powered version in testing. A full N-brand battery-electric vehicle is coming, and it'll be just as fierce as the current range.
What's not coming soon is a big SUV/crossover from the N division. Hyundai executives cited concerns over the footprint of such a vehicle. A small, turbocharged four-cylinder crossover is a less impactful choice.
If you're of a certain age, it might be hard to get your inner fifteen-year-old excited about an upcoming Hyundai crossover. But if you're of a certain age, then you could probably afford the Kona N. And it costs about as much as a Honda CR-V with a leather interior. And you always wanted a GTI as a kid. And life is short. And if you take the long way home from work, there's a pretty great road. And if Hyundai first had your interest, now, perhaps, it has your attention.